THE GOLD BULL IS BACK
Forget the Naysayers: Gold Prices Will Surge in 2014
FTMDAILY.COM – As a strong advocate of sound money, FTMDaily has long been a supporter of gold as a countermeasure to the corrupt economic policies pouring out of Washington. After a punishing year in 2013, when the yellow metal fell by an astounding 28%, it appears that gold is beginning to rise like a phoenix from the ashes. It's not that gold has suddenly become more valuable in 2014. Instead, it is more of a convergence of events that favor higher gold prices in the coming months. These include:
– The unstoppable and soaring demand for gold in China. According to Bloomberg:
"Chinese consumers bought a record 1,065.8 metric tons of gold last year, 32 percent more than a year earlier, as the country overtook India as the biggest user, the World Gold Council said Feb. 18."
– Gold ETF flows, which have been in a state of decline since September 2012, are beginning to turn higher in 2014.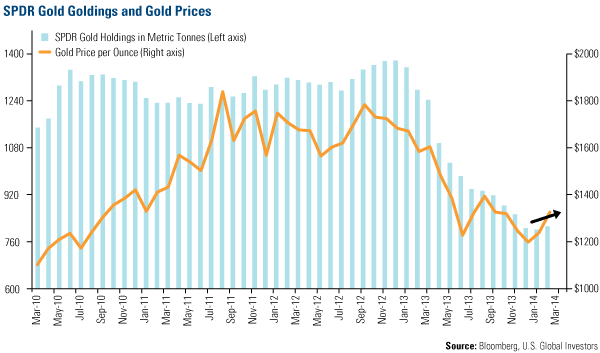 – Additionally, hedge funds have slowed their selling, while some have become net buyers. With U.S. interest rates staying steady and gold producers reacting to a decline in prices with massive cost-cutting measures, things are looking up for gold in 2014.
However, the big banks still remain mostly bearish on their 2014 gold price forecasts, as seen in the graphic below.
Of course, many of these bearish calls are coming from the same banks that have been manipulating gold prices for years. While the banks continue to deny any manipulation, the evidence points to obvious collusion.
One recent and notable exception to Wall Street's naysayers on the future of gold prices is Nomura Securities, which just raised both its gold and silver 2014 price forecasts. According to Barron's:


"Nomura now expects gold to sell for $1,335 this year and $1,460 next, up from $1,138 and $1,200, respectively. The firm's silver view went to $21.52, from $16.25."
FTMDaily agrees that gold and silver prices will rise in 2014, but we expect prices to go even higher than these forecasts by Nomura. Of course, if you expect Washington to solve the U.S. economy's deep structural problems anytime soon, you might disagree. Put simply, buying gold is like casting a vote against the Fed and Washington. That's why we remain bullish on gold and silver in 2014.
Want access to our daily trading idea each morning in your email inbox? Click here.
---
Inside this Issue
---
"Preparing — and Profiting — From the Coming Collapse"
The upper house of Russia's parliament is mulling measures allowing property and assets of European and US companies to be confiscated in the event of sanctions being adopted against Russia over its threatened military intervention in Ukraine.
The world's richest people didn't make their money trading stocks. If you really want to act and think like a billionaire, focus your entrepreneurial energies on producing something that the world needs.
Biotech surged 73% last year, the third straight year it was the top-performing sector. Now that it appears poised for a fourth, the pressure is on.
Canada is already experimenting with a digital version of its dollar, the so-called MintChip. But the real game-changer would be a digital U.S. dollar.
View the Investor Wire Archive >>
U.S. Financial Markets
Real-time Gold and Silver Prices
---
"World News Headlines That We Are Tracking"
The 2014 budget will reach an eye-popping 15.3 trillion yuan, or about $2.45 trillion – maybe not as exciting as President Obama's $3.9 trillion proposed budget, but not exactly chump change either.
Russian energy giant Gazprom has increased the price of gas supplies to Ukraine, sending a chilling reminder of the power Russia holds over European energy markets.
As Putin smiles…
The Israeli navy seized a ship in the Red Sea on Wednesday that was carrying dozens of advanced Iranian-supplied rockets made in Syria that were intended for Palestinian militants in the Gaza Strip.
The United States already has suspended all military cooperation with Russia in protest over events in Ukraine.
War games between Russia and the West intensify in the Black Sea near Crimea.
Menacing clouds hundreds of feet high captured on camera by smartphone users.
---
PODCAST: Gold and Stock Update
Broadcast Every Saturday Morning – Hosted by Jerry Robinson


Topic: With Jerry Robinson on vacation last week, this brief episode provides a precious metals update, our latest trading performance, and an investing idea..
Download Now >>
(Right click link above and 'save as' to your device)
Other Listening Options
---
"Daily Investment Trends for the Savvy Investor"
You are attempting to view premium content for subscribers only. If you are a subscriber, log in here. If you are not currently subscribed, you can learn more here.
View the Daily Chart Archive >>
---
"A Daily Stock Trading Idea for Short-Term Traders"
— Subscribers Only —
You are attempting to view premium content for subscribers only. If you are a subscriber, log in here. If you are not currently subscribed, you can learn more here.
Enter the Trading Room to View all Trading Activity >>
View our Trading Performance >>
Not a subscriber? Learn more here >>
---

"A Daily Dose of Financial Wisdom from God's Word"

"He who tills his land will have plenty of bread, but he who pursues worthless things lacks sense."
Proverbs 12:11
---
---