How High Will Silver Go? – Silver Report
As an investment and industrial metal, silver plays an interesting role within the precious metals market. For millenia, silver has been trusted as a sound form of money. It is silver's reputation as a historic monetary metal that has driven investors around the globe over the last several years to silver as a wise hedge against inflation.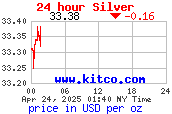 However, in addition to its historical monetary use, silver has the highest electrical and thermal conductivity of any known metal. These unique properties makes silver an extremely important industrial metal that is heavily used in global manufacturing. Today, silver is used in nearly all electronic equipment including mobile phones, computers, televisions, and even medical devices.
This global industrial demand for silver is what separates it from its yellow cousin, gold. In fact, an oft-repeated phrase among those in the know is that "gold is hoarded and silver is consumed."
In other words, the world's silver supply is being consumed at an extremely rapid pace while the mining production of silver cannot keep up with demand.
And as our world continues its relentless technological revolution, new industrial applications for silver will be discovered. Understanding this massive pressure on existing silver supplies is important to the crisis-minded investor. Some forecasts show that silver could be depleted from the earth's crust sometime within the next 7-9 years. (Read a U.S. Geological Survey silver report here.) This dual role for silver makes the price of the metal much more sensitive to the ups and downs of global economic growth perceptions.
Recently, silver prices dipped to a 19 month low.
However, I believe that silver prices will revive by September and will likely finish the year strong, well above $30 per ounce. If your goal as an investor is to buy low and sell high (as it well should be) then I would set my sights on silver for the remaining half of 2012 and into 2013.
I personally believe that owning the physical metal itself is the best way to get started in precious metals investing. After you have built a good solid foundation of the physical metal (in your possession), you can then consider specific mining companies or broader ETFs.
Recently, I recorded a brief interview with my good friend, and veteran precious metals advisor, Tom Cloud. Tom and I both believe that silver prices will be heading much higher in the future. I fully expect silver prices to rise above $100 by August 2014. We spoke specifically about the basics of silver investing. You can listen to that interview below.
Silver Investing Basics with Tom Cloud
Tom has also written a great article on the basics of silver investing. You can read it by clicking the link below.
How to Buy Silver (Read the article)
Also, if you are interested in silver investing, you should definitely check out Tom's free email news alerts. Sign up now and you will get a free precious metals investor's kit.